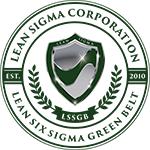 Ready to elevate your problem-solving skills and make a significant impact? Our Lean Six Sigma Green Belt Certification Exam is your path to mastering advanced process improvement techniques. This certification validates your ability to lead projects, analyze complex data, and drive sustainable change. Demonstrate your expertise in Lean Six Sigma methodologies and showcase your commitment to organizational excellence.
Take the next step in your professional journey by achieving a respected certification that sets you apart as a skilled practitioner. Prepare to lead impactful projects and contribute to a culture of continuous improvement..
Exam Title: Lean Six Sigma Green Belt
Duration: 2 Hour
Description: Official Lean Six Sigma Green Belt Certification Exam
Questions: 100
Objectives: Demonstrate your knowledge and proficiency at the Green Belt certification level.
Certification Requirements
Pass the Green Belt Certification Exam (80% or better, limited to 2 attempts)
Enroll