Lean Six Sigma Yellowbelt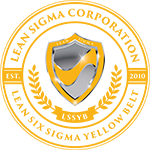 Ready to take steps toward process excellence? Our Lean Six Sigma Yellow Belt Certification Exam is your gateway to understanding the fundamental principles of Lean Six Sigma. This certification validates your grasp of essential concepts and techniques, making you a valuable asset to any organization striving for efficiency. Test your knowledge and earn a recognized certification that opens doors to new opportunities. Join the ranks of professionals committed to continuous improvement and start your journey toward becoming a Lean Six Sigma expert.
Exam Title: Lean Six Sigma Yellow Belt
Duration: 1 Hour
Description: Official Lean Six Sigma Yellow Belt Certification Exam
Questions: 50
Objectives: Demonstrate your knowledge and proficiency at the Yellow Belt certification level.
Certification Requirements
Pass the Yellow Belt Certification Exam (80% or better, limited to 2 attempts)
Enroll