Easy and Simple - Per User License Program Overview
The Lean Six Sigma "Per User License Program" is simply the easiest turnkey system you'll find anywehere. Instantly provide your organization with accredited training content and systems that you can use for your Lean Six Sigma course offerings!
If you or your organization become a "Per User Licnesee," you are provided unique registration keys to share with your students, enabling them to register into Lean Sigma Corporation's online training system. Then, every month, Lean Sigma Corporation will invoice you based on the number of times your registration keys were used in the previous month (registration key usage reports included).
Students will have access to the eLearning course associated with your registration key (Black Belt, Green Belt, or Yellow Belt) and the included downloadable support files (see below for details).
Instructors (up to three instructor accounts) will have advanced-level access, enabling them to download customizable PowerPoint training files to deliver in-class or virtual online training. Instructors can also access Lean Sigma Corporation's eLearning Dashboard, which displays associated user progress and activity with downloadable course and test performance reports.
Accredited and Professional Lean Six Sigma Content
Lean Six Sigma Content Access

Instructor

Student

Customizable PowerPoint Files

eLearning Dashboard

eLearning Course

eLearning Course Quizzes

D.M.A.I.C. Phase Tests

Downloadble eBook

Downloadable PDF Training Slides

Downloadable Roadmaps

Associated Course Data Files

Downloadable Tools & Templates

Online Certification Exam

Custom Digital Certificate

Listing in Lean Sigma Corporation's Certification Directory
Lean Six Sigma Content Access
With your "Per User License," your instructors and students get everything they need so that you can offer professional, accredited, Lean Six Sigma courses in any modality, even if you want to offer self-paced online training and certification courses!
Upon registration, your students will have access to their eLearning course, including professionally narrated eLearning modules, interactive quizzes, phase tests, and our official certification exam.
Instructors will have advanced-level access, giving them visibility into student progress and activity and our customizable PowerPoint files.
All users will easily access downloadable files within their accounts, such as our eBooks, PDF training slides, tools, templates, data files, and roadmaps.
Lastly, students who pass our official certification exam will receive a custom digital certificate and listing in our online certification directory.
The Broadest, Most Comprehensive Curriculum Available
Editable PowerPoint Files
Our customizable PowerPoint files will be available to your instructors in three versions.
Minitab v.21 (default)
JMP v.17
SigmaXL v.9
The PowerPoint files match up with our eLearning modules and our eBooks, making it the broadest courseware licensing package in the world.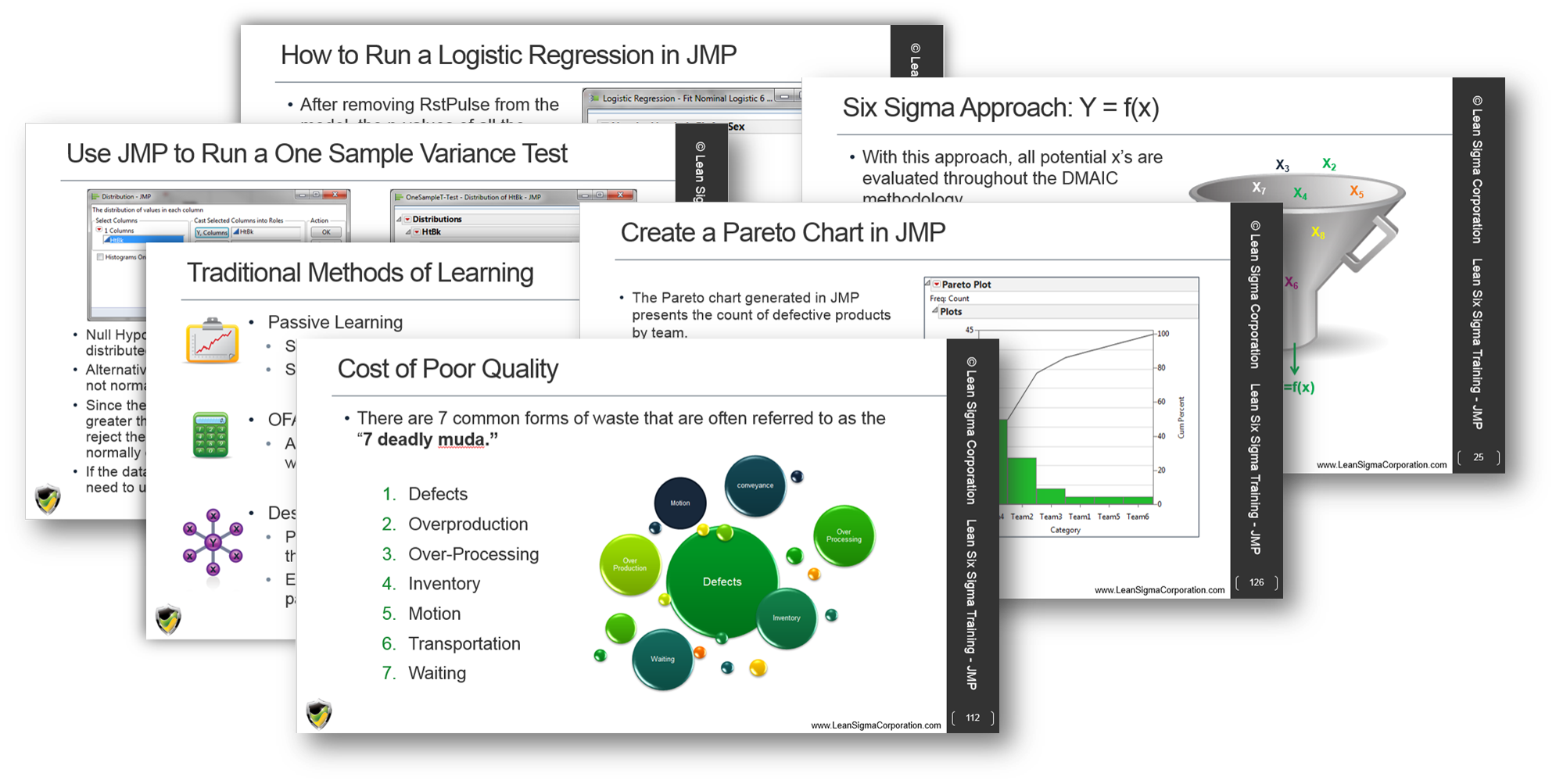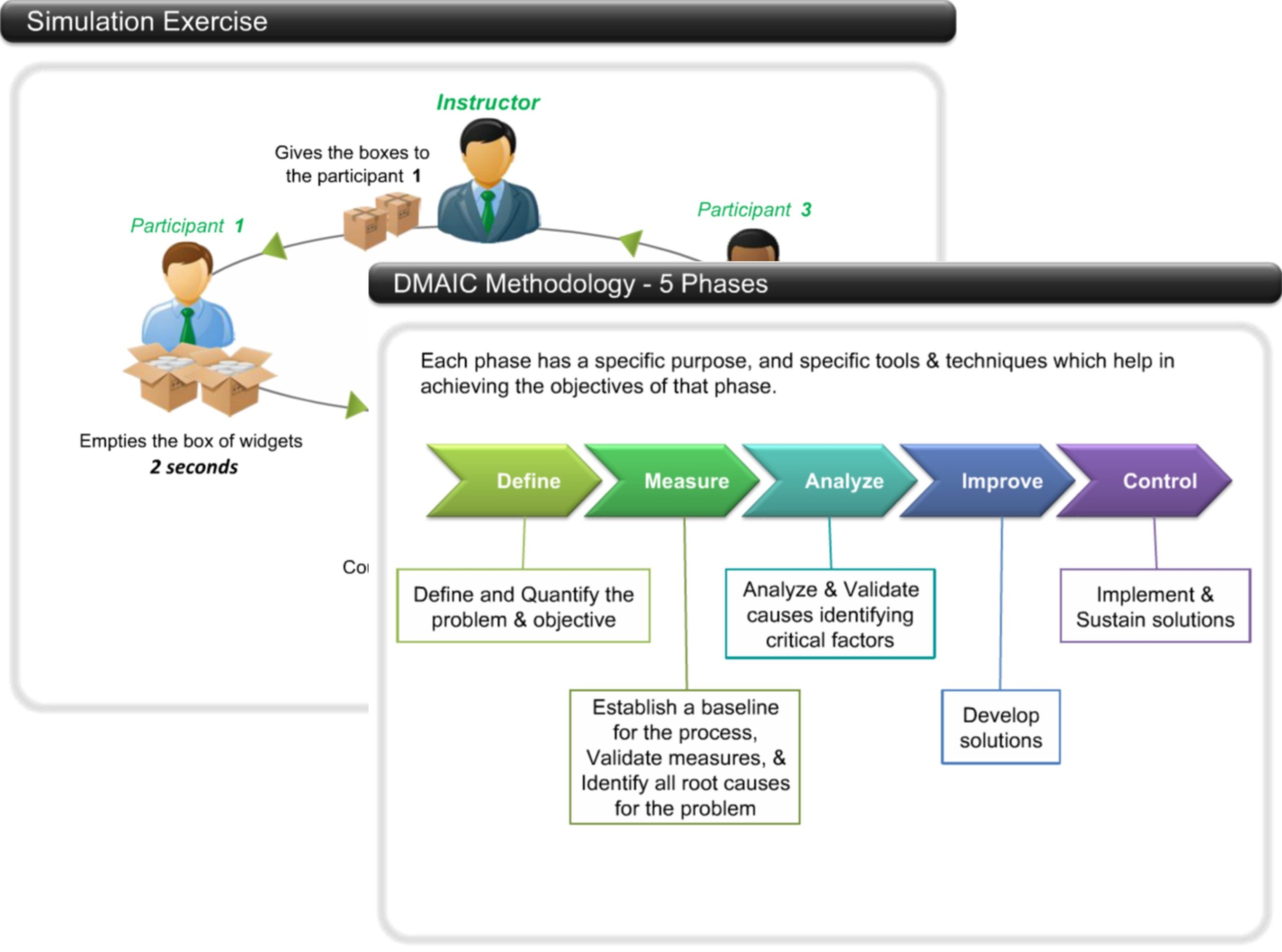 Professionally Narrated eLearning
Our eLearning courses are comprised of professionally narrated eLearning modules and interactive quizzes.
Black Belt:  21 Modules, 21 Quizzes
Green Belt: 17 Modules, 17 Quizzes
Yellow Belt: 10 Modules, 10 Quizzes
Soo comprehensive that completing them provides your students with an unprecedented source of PDUs:
Black Belt: 105 PDUs
Green Belt: 85 PDUs
Yellow Belt: 50 PDUs
All courses are structured in the D.M.A.I.C. methodology with 20 question tests at the end of each phase (Yellow Belt only covers DMC of the DMAIC framework).
An Impressive Collection of Supporting Content!
Downloadable eBooks
Available to all students from within their account. eBooks for Black Belt, Green Belt, Yellow Belt, and in every version: Minitab, JMP, and SigmaXL.

PDF Training Slides
Available to all students from within their account. PDF training slides for Black Belt, Green Belt, Yellow Belt, and in every version: Minitab, JMP, and SigmaXL.

Tools, Templates, Roadmaps
Available to all students from within their account. Tools, Templates, Data-Files, Roadmaps, and How-to Articles using MTB, JMP, and/or SXL.
Your Students Will Be Recognized and Rewarded!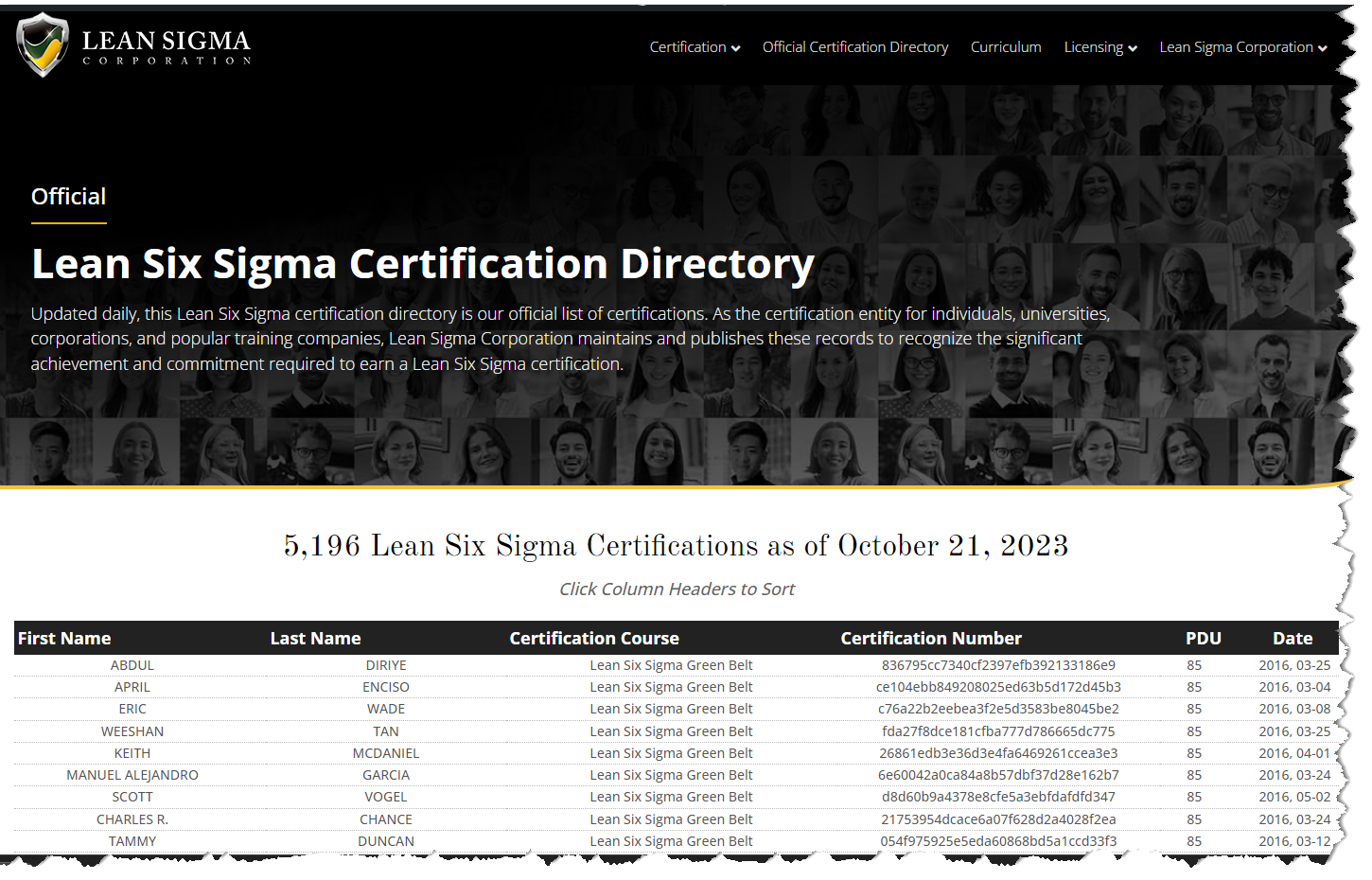 Certification Directory Listing
Students who complete any of our certification courses will be listed in our online certification directory. We have worked hard to maintain an up-to-date database of all certifications we have facilitated over the years.
Our online certification directory acts as the perfect reference page for potential employers to verify certification status. The directory is updated daily and can be sorted or searched to find anyone who has successfully completed our Black Belt, Green Belt, or Yellow Belt certification courses.
Custom Digital Certificate
When your students successfully pass a Lean Six Sigma course with Lean Sigma Corporation, they will receive an accredited certification and listing in our certification directory, but also a convenient and custom digital certificate with our certification seal and accreditation seal affixed.
While employers can check our certification directory, your students can showcase their certification at home or at work with this downloadable and print-worthy certificate.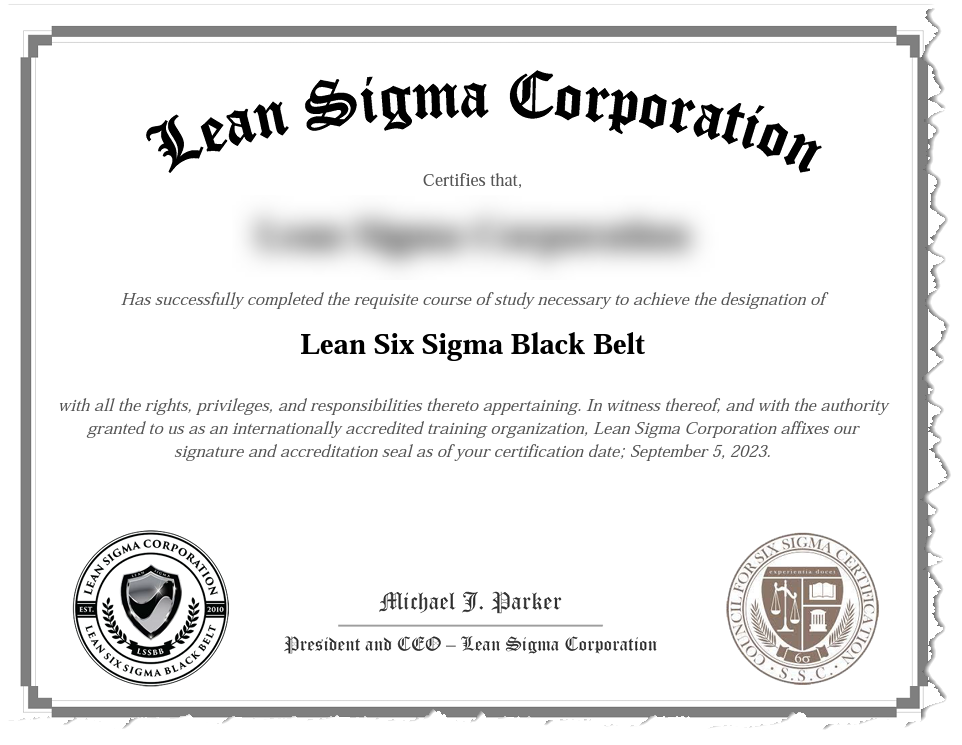 The same courseware, eLearning, and exams that you're considering to license is used by highly reputable universities and corporations.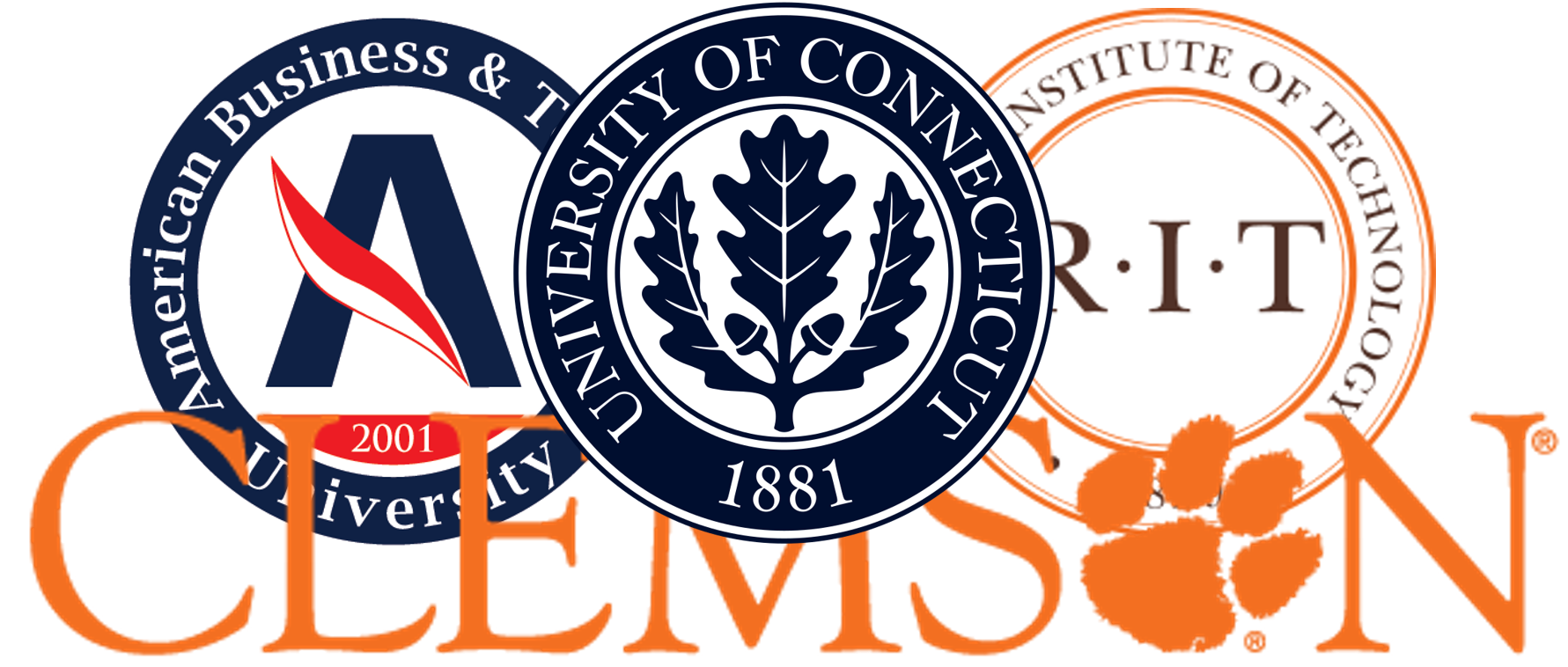 Accredited Courseware and Systems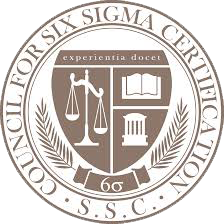 Lean Sigma Corporation is firmly committed to maintaining the utmost Lean Six Sigma Certification standards. Our dedication to excellence is exemplified through the assessment and accreditation of our training and certification program and our comprehensive curriculum and operational policies. The Council for Six Sigma Certifications has meticulously conducted this evaluation and accreditation process.
Additional Questions and Details
The Lean Six Sigma Per User License Program and pricing is designed to be in Lean Sigma Corporation's Brand. Users of this program will enroll at https://leansigmacorporation.com/registration and use our eLearning system, content, and certification.
Quick and Easy Licensing Process
at Lean Sigma Corporation we try to keep things simple and easy. To get started with this world-class licensing program, we need only a couple of bits of information from you and we will provide you information that you can use to get started immediately and begin making available and delivering high-quality Lean Six Sigma training and certification courses.
What we Need from You:
Legal Business Name
Business Address
Contact Name, Phone, and Email Address
What we Will Provide to You:
Lean Six Sigma Black Belt License Key
Lean Six Sigma Green Belt License Key
Lean Six Sigma Yellow Belt License Key
By providing the above information, we will setup your organization in our licensing system and send you a License Agreement. Once executed, we'll have your license keys in your inbox on the same day. Our pricing is extremely competitive, with a minimum charge of only one user per month. We will invoice you based on your key usage. Complete the attached form to inquire or get started.
Inquire or Get Started Today