Lean Six Sigma Yellow Belt (JMP)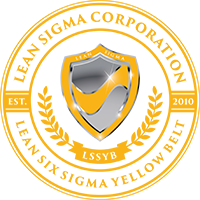 Discover the transformative potential of Lean Six Sigma through our Yellow Belt Online Training and Certification course tailored for JMP users. Dive into Lean Six Sigma concepts while leveraging the analytical capabilities of JMP for data-driven decision-making. Acquire the tools to identify improvement opportunities and lead change within your organization.
Course Title: Lean Six Sigma Yellow Belt
Course Version: JMP
Learning Method: Asynchronous
Course Description: Online Lean Six Sigma Yellow Belt Training and Certification Course
Assessment: 11 Interactive Quizzes, 3 phase tests, 1 Certification Exam
Course Objectives: Learn the Lean Six Sigma D.M.A.I.C methodology, concepts, and tools necessary to perform the duties of a Lean Six Sigma certified Yellow Belt.
Certification Requirements
Complete All Phases, Lessons, and Quizzes
Pass Each D.M.C. Phase Test (80% or better, unlimited attempts)
Pass the Yellow Belt Certification Exam (80% or better, limited to 2 attempts)
Enroll