Lean Six Sigma Yellow Belt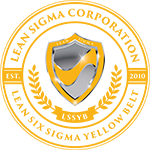 Unlock the power of Lean Six Sigma with our Yellow Belt Certification Exam. This comprehensive assessment validates your understanding of foundational principles and concepts. Prepare to demonstrate your knowledge and enhance your credibility in process improvement. Are you ready to take the first step toward becoming a certified Lean Six Sigma professional?
Exam Title: Lean Six Sigma Yellow Belt
Duration: 1 Hour
Description: Official Lean Six Sigma Yellow Belt Certification Exam
Questions: 50
Objectives: Demonstrate your knowledge and proficiency at the Yellow Belt certification level.
Certification Requirements
Pass the Yellow Belt Certification Exam (80% or better, limited to 2 attempts)
Enroll