Lean Six Sigma Green-Belt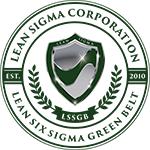 Fuel your Green Belt journey with our Certification Exam and Test Prep package. Immerse yourself in a comprehensive review of Lean Six Sigma test questions through all the D.M.A.I.C. phase practice tests. This enhanced certification exam offering includes five tests to ensure your success on the exam. Join the ranks of certified Green Belt professionals who are making a tangible impact in their organizations.
Exam Title: Lean Six Sigma Green Belt
Duration: 2 Hour
Description: Official Lean Six Sigma Green Belt Certification Exam
Questions: 100
Objectives: Demonstrate your knowledge and proficiency at the Green Belt certification level.
Certification Requirements
Pass the Green Belt Certification Exam (80% or better, limited to 2 attempts)
Enroll