Lean Six Sigma Yellow-Belt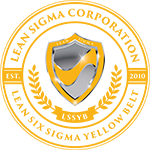 Elevate your success potential with our Yellow Belt Certification Exam with Test Prep. This comprehensive package includes Define, Measure, and Control phase tests, ensuring you're fully equipped to excel on the exam. With these tests and expertly crafted test preparation, you'll be poised to achieve your Yellow Belt certification and embark on your journey toward process improvement mastery.
Exam Title: Lean Six Sigma Yellow Belt
Duration: 1 Hour
Description: Official Lean Six Sigma Yellow Belt Certification Exam
Questions: 50
Objectives: Demonstrate your knowledge and proficiency at the Yellow Belt certification level.
Certification Requirements
Pass the Yellow Belt Certification Exam (80% or better, limited to 2 attempts)
Enroll